Visible Dust Vdust Plus Formula (8ml)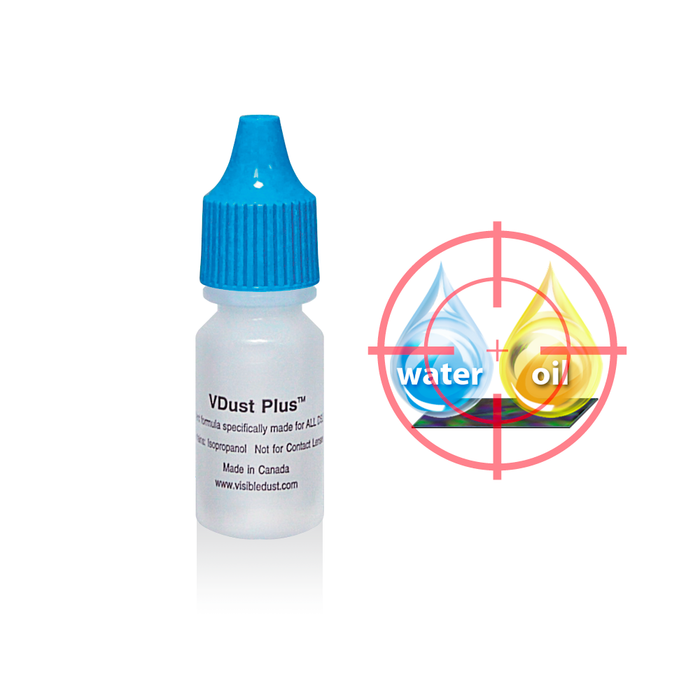 Excellent cleaner for more stubborn marks on all sensors. This fluid is compatible with all MXD (Green) Swabs and you don't need much so 8ml will last you a lot of cleans. 
If you are unsure as to the nature of a stain on the sensor of your camera or you get both water and light lubricant stains, VDust Plus™ will fit the bill perfectly. Designed to clean away water and most oil stains, VDust Plus™ eliminates streaking and provides a moderate static barrier.
All of our solutions are safe on ITO and non ITO coated sensors.
VisibleDust liquid cleaners (Sensor Clean, VDust Plus and Smear Away) when used with VisibleDust Sensor Cleaning Vswabs are safe and effective on ALL digital SLR and mirrorless cameras including: newer Canon DSLRs, such as the 400D, 40D, 1D MKIII, and 1Ds MKIII, Newer Nikon D300 and D3 and Alpha Sony 700.
Here is Visible Dust's wet cleaning guide: https://www.visibledust.com/technology.php?art=wet_chat
But if you don't want to clean your sensor yourself bring it in to us and for $45 we'll do it overnight, and $65 while you wait!