Ilford Multigrade IV RC Deluxe Pearl Paper (MG4RC44M) - Various Sizes and Packs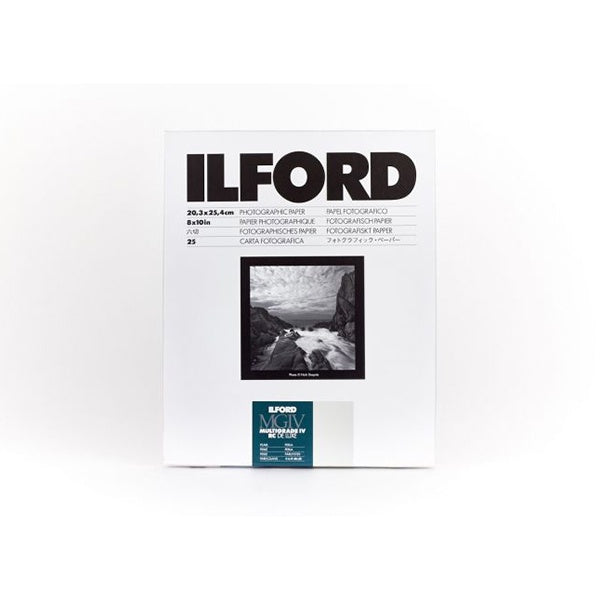 ILFORD MULTIGRADE IV RC DELUXE is a premium quality, black & white variable contrast paper on a bright white resin coated base. It delivers a full tonal range and exceptional image quality throughout its wide contrast range of grades 00-5.
ILFORD announced the world's first variable contrast MULTIGRADE paper back in 1940 and since then has been evolving the range to become the 'go to' black & white papers for discerning darkroom printers the world over.
As part of the world's most iconic and popular darkroom paper range, the current emulsion design keeps up the long running tradition of MULTIGRADE quality. Giving you more response where you need it, this paper helps to reveal the subtlest highlight details whilst recording shadows in deep rich blacks accentuated by the bright white base.
This makes it the ideal choice for beginners printing straight from negatives as well as more advanced users who don't want to compromise on creative control.
MULTIGRADE IV RC DELUXE is also available in Cooltone and Warmtone variants.
MULTIGRADE IV RC DELUXE is part of the ILFORD MULTIGRADE system and seven full grades of contrast can be achieved when used with ILFORD MULTIGRADE filters. It can be used with most common safelights for black & white darkroom paper such as the ILFORD 902 safelight filter.
Resin coated, variable contrast black & white photo paper for darkroom printing. Ideal for beginners and advanced users.
Medium weight 190gsm resin coated paper
Neutral image tone on a bright white base tint
Choice of glossy, satin or pearl surfaces
Available in sheets and rolls
Some papers may need to be ordered in. Please contact us for ETA. 
Wondering which paper to choose? Read this guide to picking your perfect Black & White paper