Harman EZ-35 Reusable Camera (with free roll of HP5+ 36exp Film)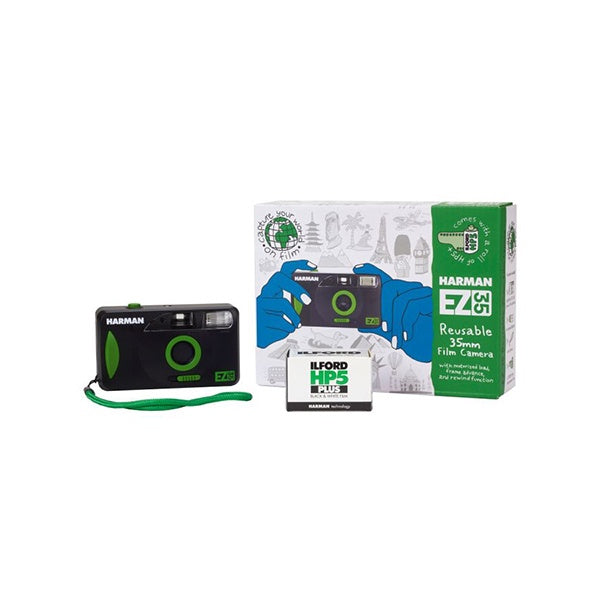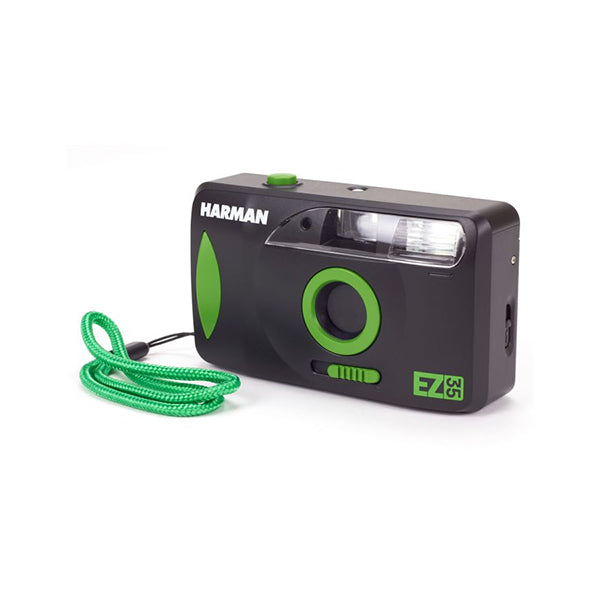 The HARMAN EZ-35 is a 35mm reusable film camera with motorized load, frame advance and rewind functionality making it the ideal camera for anyone starting out in film photography or those looking for a simple point and shoot option to capture their world.
With a 'focus free', 31mm, f/11 lens, this excellent, environmentally friendly alternative to single use cameras works with all brands of both black & white and colour film (ISO 400 recommended).
It includes a built-in flash with 15 seconds recycle time for indoor or trickier lighting conditions as well a lens cover / shutter lock to ensure you don't waste a shot.
The box contains everything you need to immediately start shooting Including 1 roll of ILFORD HP5 Plus 35mm 36 exposure black & white film, one of the world's most iconic and popular films, as well as a standard AA battery and a wrist strap.
Camera Specification:
Film Format      135 Film (24x36mm)
Lens                31mm, F/11
Shutter            1/100s 
Focusing          Focus Free, 1m - ∞
View Finder      Field = 70%      
Film Transport   Motorized load, advance & rewind   
Flash                Built-in Flash, 15s recycle time
Lens Cover        Also acts as shutter lock
Dimensions      110 (W) x 62 (H) x 38 (D) mm
Weight             126g (w/o battery)
Reusable, motorised camera with 1 x ILFORD HP5 PLUS 135 36 exposure film.
Reusable 35mm camera
Packaged with battery and strap
Includes 1 x roll ILFORD HP5+ 36exp film 
Motorised film load, advance and rewind
Built in flash