LomoApparat 21 mm Wide-angle Camera (Neubau Edition)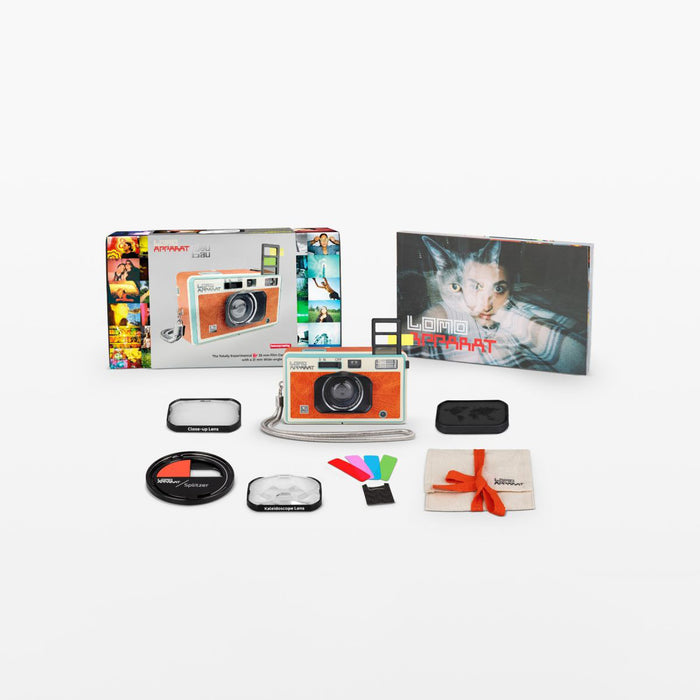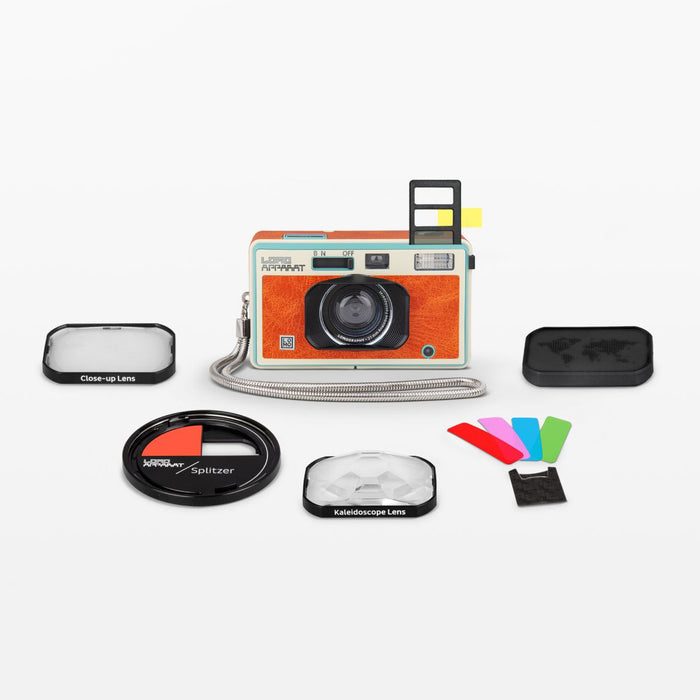 Meet the LomoApparat Neubau, the totally EXPERIMENTAL, incredibly WIDE and super EASY TO USE 35 mm film camera with a 21 mm wide-angle lens, in an exclusive real Italian leather design.
Your Everyday Analogue Foto Apparat
Forget about dodgy disposable cameras. Stop the endless search for sub-par, second-hand gear. The LomoApparat is the answer to simple but creative analogue photography on the go! It's always been our mission to help keep film alive. We're constantly striving to create new and exciting analogue goodies that help our Lomographers around the world to show off their creativity and love the analogue lifestyle.
We wanted to build a new and unique portable camera, that would allow people around the world to shoot simple but creative analogue photographs whenever, wherever, and this one's built for some serious experimental fun! We packed in a whole load of Lomographic madness inside and want you to use this analogue tool to craft the analogue universe that you want to see! Forget about any rules, ignore the viewfinder and get ready for the analogue adventures to begin!
Shoot as close as 0.5 m to your subjects with the built-in lens – make sure they don't bite – or add the 0.2 m close-up lens for even crazier captures! Mix and match your frames with the Splitzer or get a bugs-eye view with the Kaleidoscope lens attachment. Don't forget, however you choose to capture your adventures, you can fit everything in the frame and more – with the LomoApparat's all-seeing 21 mm wide-angle lens. It's a wild ride so make sure to hold on tight using the detachable metal chain wrist strap and, for even sturdier shots or at night, use a tripod.
Just when you wonder if there could possibly be more, we added a playful flash filter slider with interchangeable colored filters for colorful flash effects. Simply slide, flash, repeat! With one fixed ND flash filter for perfect exposures even with the close-up lens attachment, chop and change in the remaining slots with the included colored filters. For the crafty ones, why not make your own! If that's still not enough and you want to get totally analogue crazy, use the MX switch for multiple exposure mayhem or Bulb shooting mode for exciting long exposure effects.
Never miss a photographic opportunity again with the LomoApparat, the ultimate companion for every analogue adventure!
The classic LomoApparat camera dressed in an exclusive Italian leather design
Step out of reality and fit everything in the frame with the 21 mm wide-angle lens
Snap around the clock and get analogue crazy with a built-in flash and colored gel filter slider
Kaleidoscope and Splitzer lens attachments for unique experimental effects
Use the 0.2 m close-up lens attachment to get closer… and closer
Shutter Speed:
1/100 (N), Bulb (B)
Available ISO Settings:
No ISO Adjustment
Package Contents
LomoApparat 21 mm Film Camera Neubau Edition
Detachable Metal Chain Wrist Strap
Lens Pouch
Kaleidoscope Lens Attachment
Splitzer Lens Attachment
Close-up Lens Attachment
Colored Gel Filters
Camera Booklet
Online Manual
**PLEASE NOTE THIS ITEM IS CURRENTLY ONLY AVAILABLE FROM OUR TE WHANGANUI-A-TARA WELLINGTON STORE**