Lomography Simple Use Film Camera with Underwater Housing - Colour Film (135, 36exp, 400ISO, Waterproof to 10M)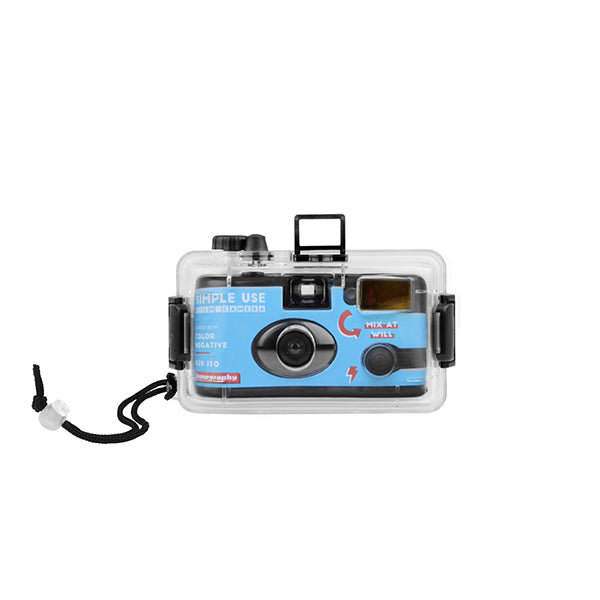 Preloaded with Color Negative 400, this intrepid image maker will follow its owner to the ends of the earth and capture their analogue adventures in dazzling color - dress it up for underwater exploration and down for on-land occasions too.
Reliable Companion for Outdoor Escapades
Whatever the weather, the special edition Simple Use Reloadable Film Camera + Underwater Case will be your fearless photo taking friend, swim-up bar sidekick, beach bum buddy and poolside pal. Dive down to depths of 10m and snap your way through a film of nautical negatives - from the sandy seashore to your local lido, rippling rock pools to private onsens, your aqua expeditions await!
Analogue Original with Added Underwater Appeal
Grab this preloaded, compact camera and take it further than it's gone before. This point and shoot comes preloaded with Color Negative 400 for intense colors and bold brightness in a variety of lighting conditions. All original functionality is fully seafaring too - take creative control and color your underwater creations with the three vivid Color Gel flash filters or take snaps with the powerful in-built flash to brighten those shadowy seas.
Shoot, Reload, Repeat
Once you've splashed and snapped your way through your first roll of film it's time to get your marine moments developed. Now you can either refill your Underwater Case with a brand new Simple Use Reloadable Film Camera preloaded with Black & White, Color Negative, LomoChrome Purple or LomoChrome Metropolis film or you can reload the camera itself with a new Lomography film. We've published a guide with top tips on how to reload your Simple Use Reloadable Film Camera.
Film Format: 35 mm
Lens Focal Length: 31mm
Shutter Speed: 1/120s
Aperture: f/9
Focusing: 1m to Infinity
Flash: Built-in Flash
Battery: 1 x AA Battery
Dimensions (mm): 115 x 60 x 33
Preloaded with Color Negative 400 Film
Waterproof to 10M